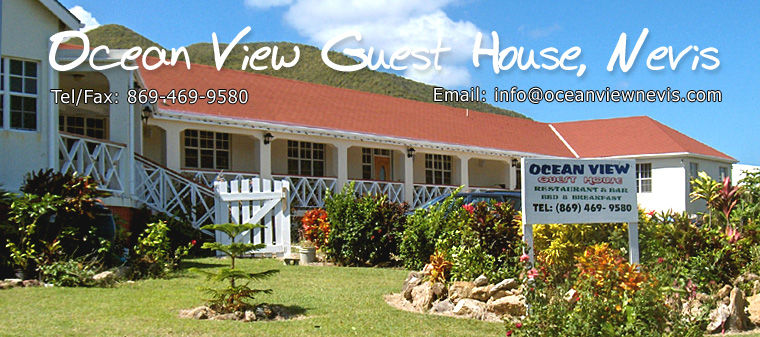 Richard and Pearl are the Proprietors of the Ocean View Guest House in Nevis and have over fifty years experience in the catering industry between them. They have owned and managed pubs, clubs and restaurants and cafes in the Midlands area of the United Kingdom with successful business ventures in Birmingham, Nottingham and West Bromwich.
When they finally "retired" in late 2003 they decided that they wished to return to their Caribbean roots and Nevis was the perfect option. With its unique position being an area of outstanding calm and beauty yet within commuting distance of the more vibrant St Kitts it was an obvious choice. Pearl was born on the island and was pleased that although there is now much more development on the island than when she left many years ago essentially the pace of life has remained the same, slow and relaxing.
Richard & Pearl had always intended to run a small business once in Nevis and hence the Ocean View Guest House was born. With just five guest rooms (two with ensuite facilities) the guest house also boasts a 30 seater restaurant and bar. There is a nature reserve within walking distance or if you prefer watch nature in action every morning from the veranda – you can see the daily visits from the goats, or perhaps feed the chickens, or simply relax with a refreshing drink from our bar. Whatever you want from your holiday, this is the place to be. Pearl knows the path of the island in intricate detail and will gladly show you the quickest route to the beach although whichever way you go you are never more than ten minutes away from pure relaxation. Richard & Pearl can also arrange to meet you at the airport (either St Kitts or Vance Amory in Nevis) and can arrange various excursions for you including a tour of the island at minimum extra cost.
Read our previous guests comments on the Comments Page. Choose Nevis for your next holiday and stay at the Ocean View Guest House where you are not just a guest you are a friend.
We hope to see you very soon.
Richard & Pearl
Proprietors – Ocean View Guest House